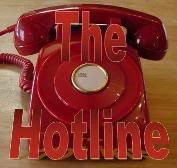 Why They Quit
Troy Council Democrats are preparing to surrender to Mayor Tutunjian on the issue of raises for city employees. It was a big issue for the Dems, but they're gonna cut and run before they have to be in court Thursday to answer to a lawsuit filed by members of the Tuntunjian administration.
The Dems said for months they felt so strongly the raises were wrong. Then why would they give up to Tutunjian without a fight? That's the question on the mind of many Troy residents so we'll thoughtfully explain why they threw the towel in.
The Dems were going to lose the case.

You don't bail on a lawsuit you were going to win. Whether they wanted to believe it or not before the lawsuit, the Dems were violating the City Charter, which not so incidentally was approved by Troy residents.
T

he Dems don't want to get blasted over the cost of the lawsuit.

One of the unsuccessful Council Democrat candidates, Vic Debonis, got hired we expect to give legal advice to the Democrat council majority. He even got a $5,000 raise just after Dems took office. But the legal bills to the city would have been $20,000, according to some city sources. Do Dems really want to explain why they would be spending tens of thousands of dollars for months to come while getting little in return, except satisfying Bill Dunne's revenge fantasies?

Those e-mails would come back to bite them.

Remember the e-mail by Bully Bill Dunne from January? The one threatening "punishment" for some of the city employees who later just coincidentally got their salaries cut? That e-mail was included in the lawsuit filed against the Dems. How many other e-mails would they have had to explain?

Plus, what was Boss Tom Wade doing at all those meetings?

Dem sources have said Wade was directing the Council during the transition, which included the wrong-headed decision to cut the salaries. Wade, through his spokesperson Sue Steele, said no such thing ever happened. (Steele, coincidentally landed a state job worth about $90,000). Oh, yes, such a thing did happen, responded Troy Dem City Chair Frank LaPosta, who said publicly Wade was at several meetings.

And the Dems didn't want to explain how they really came up with whose salary to whack.

It looks as if none of the other members of the Dem council majority wanted to take the stand and get slammed for following what sources have said were orders from Wade and Dunne to cut the salaries. It was time for the other five to cut and run from the mess.

There really wasn't much of a savings to Troy taxpayers from cutting the salaries.

We'll explain more on that tomorrow.

John Brown's water deal will cost Troy $2 million.

Whoops, wrong topic.
Council Dems have until Thursday to drop the case. The only thing worse than the embarrassment from running away from their biggest issue without a fight would be going to court and getting trounced for not knowing the charter and not even being in control of their own decisions.