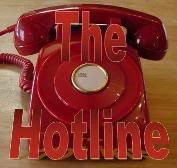 The Gadfly Gang?
The search for a new spokesperson, assistant, whatever you call it in the Democrat Minority Office of the County Legislature in Rensselaer County has gotten underway! Exciting. Well, actually, it is pretty exciting because legislative Democrats are giving serious consideration to hiring Charles "CB" Smith as their top staffer.
Democrat sources say Smith was one of those interviewed by Democrat legislators. He could replace Sue Steele, who is leaving for the State Children and Family Services Agency. Steele didn't have much luck electing Democrats to the Legislature during her time on the job, including a loss in a special election last fall Democrats had pegged as a win. But despite a supposed state fiscal crisis, there is enough bucks laying around for state spokesperson positions. Any chance of rehiring Darren Dopp?
Smith has some fans in the Democrat caucus, including Legislator Kevin Harrington. He apparently claims credit for helping elect Harrington and Legislators Virginia O'Brien, Keith Hammond and Brian Zweig. Smith hasn't had much luck lately, according to our friends in North Greenbush, who report Smith couldn't even win re-election to a committee seat for the Democratic Party in his home neighborhood.
Smith also saw his candidates get trounced in a series of primaries in North Greenbush, including a couple of fierce Democratic battles. So he's got enemies, but those enemies apparently don't include the Democrats in the County Legislature.
Other news on candidates as we get it.
Dead in the Water?

Word around Troy is the press release by the Lil' Steamroller Troy Councilman John Brown whining about the criticism of his corrupt water deal – the one that would swipe up to $2 million from Troy to benefit Brown's buddies in Rensselaer – may have exposed a fracture in the Dem Council majority. Brown's press release only listed Brown, Councilman Bill Dunne and Councilman Ken Zalewski. Council Prez Clem Campana, Councilman Pete Ryan and Councilman Gary Galuski were not on it, and Dem sources say those three don't support the deal. Let the arm twisting begin!