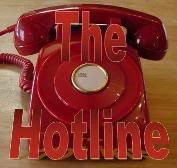 Out and About
After a busy few weeks, we'll pass on a few tidbits to start the week:
Fresh off losing any support in the Democrat Council majority, John Brown will be holding a fundraiser at Franklin Plaza. The word is that Dem bigwigs are dissatisfied with Council Prez Campana and are pushing Brown to take a bigger role with the Council and possibly get ready for a run for mayor. But some toes may be getting crunched in the process.
Are Council Dems really thinking of a new surcharge for garage collection in Troy?
Lawn signs protesting Governor Spitzer's decision to close two local prisons are popping up in some areas of the areas of the Capital Region and may be headed to Rensselaer County.
Upstate State of Mind
Noted blogger Chris Chichester has a new blog on New York, particularly upstate issues.
Check it out
.